Mission Trip to Agua Prieta, Mexico
by Jim Nussbaumer


For several years now, Mountain View Presbyterian Church in Loveland, Colorado, has had a relationship with the Lily of the Valley Presbyterian Church in Agua Prieta, Mexico through the assistance of the Frontera de Cristo border ministry.
What may have started out as Mountain View wanting to help the church in Mexico has developed into a mutual relationship where we share both ways. While we have been able to share of our time and material goods, our friends of Lily of the Valley Church have shared richly of their faith, time and friendship. We have sent groups to visit them 4 times over the years and we have been blessed to have had their pastor, Jesus Gallegos visit Colorado and preach in our pulpit. They have opened their hearts and homes to us and shown us a rich faith in our Lord Jesus Christ that sometimes puts us to shame.

This will tell the story of a visit by 7 members from Mountain View who visited Agua Prieta for a week in March of 1998. The group consisted of 5 men and 2 women. It was my 3rd visit, and while many details of the trip were different, I found myself right back at home with the warm, friendly people of the Lily of the Valley Church.

Pastor Jesus Gallegos and his wife Rosario.
Houses in poor section of Agua Prieta

Agua Prieta is situated on the Arizona/Sonora Mexico border, just across from Douglas, Arizona. It is a town of 100,000 people, many of whom were attracted to the area by jobs at the Maquiladoras (or factories) building goods for the U.S. market. While many of the people live in severe poverty by U.S. standards, there are some nicer homes and businesses as well. The area is growing very rapidly, as people from further south in Mexico flock to the border for the promise of jobs. Many of them stay only a few months or years, saving their money before heading back home. One of the contrasts I noticed in the 5 years since I had last been there was in the extension of utilities and paving into some of the newer areas . The government is trying but can't keep up with the growth.

As is most of Mexico, it is primarily a Catholic area, so the protestant churches are in a distinct minority there. The work they do is much more than just preaching the gospel, however; they also show a strong witness to the community with their high moral code and community outreach programs. The Lily of the Valley church has also sent out its own mission team to the troubled Chiapas area in southern Mexico.
The church building at Lily of the Valley is a large, concrete block, multipurpose structure housing a sanctuary, church offices, kitchen, medical and dental clinic and Sunday school rooms. The congregation numbers about 50 members, with lots of children at most activities. They hold both Sunday morning and Wednesday evening services with more study groups on Sunday evening. They also have a number of outreach programs within the community including medical and dental services, health education, counseling, marriage enrichment classes and adult education, all the while witnessing and preaching the word.

Frontera de Cristo is a joint ministry of the Presbyterian Church (U.S.A.) and the National Presbyterian Church of Mexico. It is one of seven Presbyterian Border Ministries along the U.S. / Mexico border. Because Frontera de Cristo gets no support from the General Mission Budget of the PCUSA, they depend on giving from Presbyterian congregations and individuals for on going support.


Lily of the Valley Church building
| | |
| --- | --- |
| Shannon Moses, Jesus and Rosario Gallegos | The staff at Frontera de Cristo and Lily of the Valley Church includes: Shannon Moses, U.S. co-director for Frontera de Cristo; Benjamin Romero, general administrator and President of the congregation; Blanca Romero, secretary of Frontera de Cristo and director of the family ministry; Rev. Jesus Gallegos, Mexican co-director of Frontera de Cristo and Pastor of Lily of the Valley; Rosario Gallegos, program promoter of the staff and pastor's wife; as well as Dr. Peñalosa, part time member of staff and Elvia Duarte, full time nurse . Shannon was our main hostess for the week. |
Our main work project on this trip was assisting in the construction of a Community Center in the Colonia Neuvo Progreso. There has been a health clinic there for several years, but it is a small two room building with just enough space for the doctor's equipment and two couches for the waiting area. The Community Center will be a two story structure filling virtually the entire available lot. It will include a large meeting room, a remodeled clinic, classrooms and bathrooms with running water to replace the current outhouse.
This community center is being built over a period of 2 years by numerous volunteer mission teams from churches throughout the U.S. The mission teams provide the labor and much of the money, while working under the supervision of a Mexican foreman. While the mission teams that come down share their time and talents, they also learn more about the people and conditions in Agua Prieta and gain a new respect and love for our Mexican brothers and sisters in Christ.
The excavation for the footings for the community center was dug by hand by an elderly neighbor and his grandson, Coco. Then a volunteer group, the week before we got there, poured the footings . Our task was to lay concrete blocks for the foundation and pour a concrete bond-beam to tie the bottom parts of the wall together.
| | |
| --- | --- |
| We worked under the supervision of Francisco Chavez, a Mexican contractor. Even though Señor Chavez spoke no English, Shannon was a good translator for us and we all got along well, with lots of gestures and pointing. Shannon was around the work site most of the week - sometimes helping us work and sometimes working with the neighborhood kids. She had a good relationship with the local kids, sometimes teaching them songs, sometimes just talking to them. They seemed to love being around her. She is very key to the current success of the programs with the U.S. mission teams. | Shannon with the kids |
| | |
| --- | --- |
| Ralph laying block. | None of us, except for Ralph Weinland, a retired contractor, were very experienced at laying concrete block, but we got some instruction and we all pitched in at some portion of the job. Ralph gave lots of good instruction in the techniques of how to lay block. There were lots of challenges in laying the block, because sometimes the concrete footing was not very uniform. There were places where it seemed like we were trying to pour a new footing when we had to build it up with several inches of mortar. While part of us laid blocks, others ran the cement mixer or mixed mortar in a wheelbarrow by hand to keep them supplied. |
| | |
| --- | --- |
| Most of the neighborhood kids went to school on the afternoon shift but were available to hang around the construction site all morning. After laying the concrete blocks, we back filled the blocks with concrete to form a solid wall. This was an area where the kids could really help. They got really good at filling in the voids with concrete and troweling it down. They were pleased with this task which they could really handle. It was both boys and girls - all pitching in equally. | Neighbor girl scraping out cement. |
Kids helping Dorothy sift sand.

In addition to helping fill in the walls, the kids helped with other jobs as well. They helped us shovel the sand through a screen to filter it for mixing the mortar, helped load the cement mixer and even helped wheel loads of cement to the work site. While none of them spoke any English, and most of us had little if any Spanish, we still got along great.

After all the concrete block was laid and filled, we installed wooden forms in which to pour the bond-beams. This also included cutting, installing and tying together some re-bar in the forms. While the forms looked a little precarious to me, they held together fine and did the job.
| | |
| --- | --- |
| Friday was the most intense day, as we finished up the forms and poured the concrete for all the bond beams we had material for. We lost track, but in the course of the week, we went through more than 20 sacks of cement. Filling the forms meant mixing and wheeling concrete as fast as we could mix. Coco was proud to be able to show that he was macho enough to work like a man. He was always showing off his muscles. | Coco wheeling cement. |
| | |
| --- | --- |
| Neighborhood boys filling cement blocks. | The week was certainly about a lot more than just getting some construction work done. Even more important was the opportunity to work with some of the members of the community there - especially the children. The children were always around and always eager to help. Of course they were still kids and liked to play but they were really good helpers too. They seemed to take great pride in being able to contribute and work alongside the Americans. |
Before we left home, at our mission commissioning service, our church gave each of us a small pin with the words "My Best Friend is a Carpenter" with instructions to give the pin to someone we met on the trip who made an impression on us.

The woman who lived next door to the new community center brought lunch over to us one day. That was a real treat for us - home made Chimichangas, but also it was an expression of her appreciation for the work and the concern we were showing. At the end of the week, I gave her my Carpenter pin as an expression of my appreciation. Several of the kids got Carpenter pins from other members of our group.

Señora next door with "Carpenter Pin".
| | |
| --- | --- |
| Richard & Coco playing. | One of the special kids that was always around was Coco - about a 6th grader who really did do a lot of work. He was big and strong enough to wheel the wheelbarrow, if it wasn't completely full. He also liked to kid around with us. He and Richard had a good time playing games. It is amazing how well you can get along even without knowing each other's language. |
| | |
| --- | --- |
| We had the opportunity to share several meals with our hosts from Lily of the Valley church. One night, some of the ladies of the congregation prepared a delicious meal of authentic Mexican food which was certainly a treat. Another night, Pastor Gallegos and Rosario invited us to their house for dinner which we will always remember. This also gave us an opportunity to take a look at his house, which a previous Mountain View work group helped construct several years ago. It was gratifying to see the finished product which I had helped pour the foundation for. | Dinner at Jesus & Rosario's |
| | |
| --- | --- |
| | We also had the opportunity to worship with our Mexican brothers and sisters. They are a small congregation and music is a vital part of their worship. They use piano and guitar in leading the music and display the words on an overhead projector for everyone to follow along. We joined in and sang along, even though we didn't understand most of the words. While the sermon was preached in Spanish, which we didn't understand, Shannon did a good job of translating as it went along. Everyone there went out of their way to make us feel welcomed and appreciated. |
While we were tired at the end of the week, it was a little sad to be leaving our friends. We will certainly remember them for a long time. What will stick with us, long after the work is forgotten, will be the faces, the joys, the children especially and the shared joy in Christ. While only the Lord knows when or if we will see them again, we all came away changed.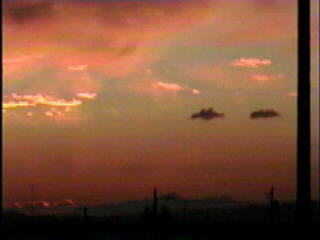 Sunset over Agua Prieta