Welcome to the story of our trek up Mount Kilimanjaro!
In January, 2002, six of us went on a trek to the top of Mount Kilimanjaro - the highest mountain in Africa - at 19,338 feet high. This was a big adventure for us, but it is a quite popular adventure, as thousands of people make the trek every year. We spent 7 days on the Machame Route. It is often done in only 6 days but we chose to take an extra day to help us adjust to the altitude better and increase our chances of making it successfully.

The map below shows the Machame route - or at least the modified version we ended up taking. It is normally called the Machame - Mweka route as it follows the Machame trail up and the Mweka trail down. In our case, we followed the Machame up and came down the Marangu route because one of our members had severe altitude sickness and the guides chose to bring him down the Machame route to be able to evacuate him easier.


Kilimanjaro from Marangu Hotel
The massif known as Kilimanjaro is one of the highest free standing mountains in the world (not part of a mountain range or chain). It actually has two main peaks areas - Kibo which is the highest at 19,338 ft and Mawenzi which is lower at 16,894 ft. We were headed for Kibo, which is what is most often referenced in the journal and captions below.
What follows is the journal that I kept while on the trek, usually written in the evening on my HP Jornada 620 Palmtop computer. So follow along in one of three ways - with the buttons at the left of this page and the top of the following pages; or by clicking on segments of the trail in the map below; or by using the NEXT and PREV buttons at the bottom of each page. Most of the pictures were shot on my Sony TRV830 Video Cam with Digital Still mode.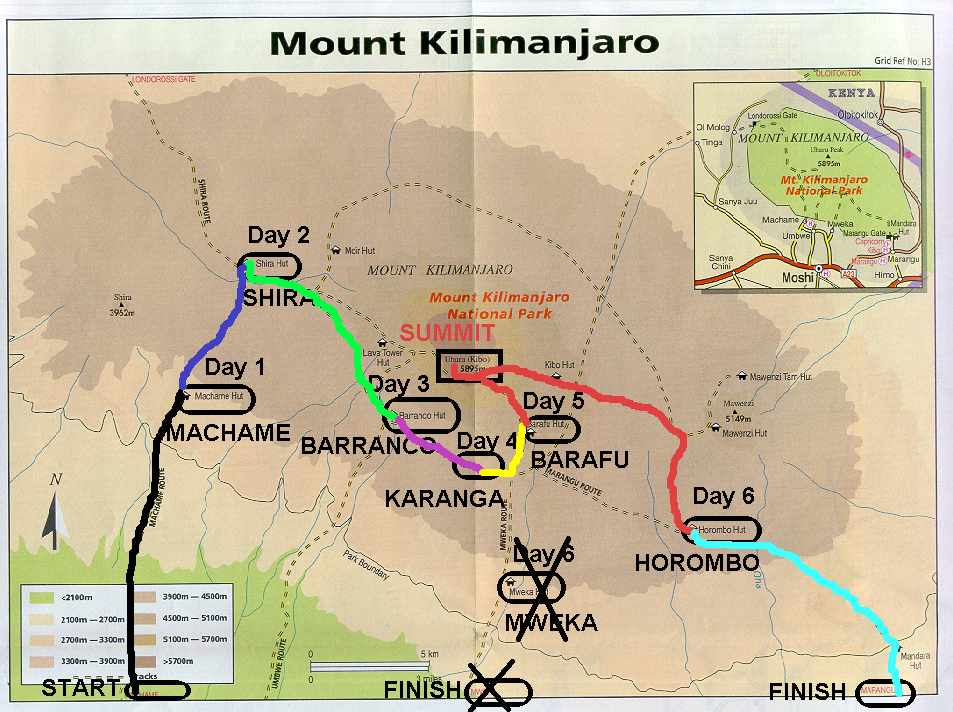 Click on a section of the trail in the map to see the story and pictures for that day.
We organized our trek through Marangu Hotel - Marangu, Tanzania (www.maranguhotel.com). They were great to work with and very professional in all of their arrangements. For the 6 of us, they provided 15 porters and 4 guides. Our chief guides were Joseph and Frederick. The Marangu Hotel told us as part of their orientation that they make every possible effort to be sure that everyone that goes with them makes it to the top if they possibly can. If the trekkers get close to the top - they will strongly encourage and assist if needed to get them there. We found this to be true on our trip. We could not have done it without their great help from start to finish.
This page was last updated on 02/20/02.
This WEB site is entirely the responsibility of Jim Nussbaumer. To contact me with any comments or to report any errors, please email jim@nussbaumers.net